AFLW player Erin Phillips is no stranger to silverware, but has given gold for a cause that is very different to the on-field exploits she is renowned for.
Key points:
AFLW champion Erin Phillips was among seven prominent South Australians to participate
Typically used to symbolize wealth, the color gold was chosen ironically
Organizers say a huge majority of people currently seeking support are "new to homelessness"
The former-Crow-turned-Port Adelaide player was among seven prominent South Australians who gathered at the center of Adelaide's main shopping strip to draw attention to the ongoing prevalence of homelessness.
Surrounded by Rundle Mall's fashion stores, eager shoppers, advertising hoardings and retail outlets, the group — which included Adelaide Fringe director Heather Croall, Kaurna elder Uncle Mickey O'Brien and former A-League striker Bruce Djite — all donned gold body paint for the fundraiser.
"There's a lot being done, clearly not enough," said Djite, who is also chief executive of the state's Property Council.
"It's a crisis that's getting worse and worse. That is due to a lack of affordable properties and a lack of supply and choice in general."
Mr Djite said it was a "responsibility for people like us" to support public initiatives intended to help create solutions.
"Homelessness is still a real stigma. People try to hide it. People are couch surfing or living in cars and may well be employed," he said.
"[It's] something that can happen to anyone, hence me being in business attracts."
Organized by homelessness support service Lutheran Care — and described by its creator Andrew Baines as a "living art installation" — the event was accompanied by voice recordings of people experiencing disadvantage and hardship.
"We tried to get a whole cross-section of different things that can happen so that people might look at it and go, 'S***, that could be me'," the veteran public artist said.
"Erin Phillips [is] a mother running away distressed with her baby, we've got [government MP] Nat Cook holding an eviction notice because she's obviously got nowhere to go — she's been kicked out."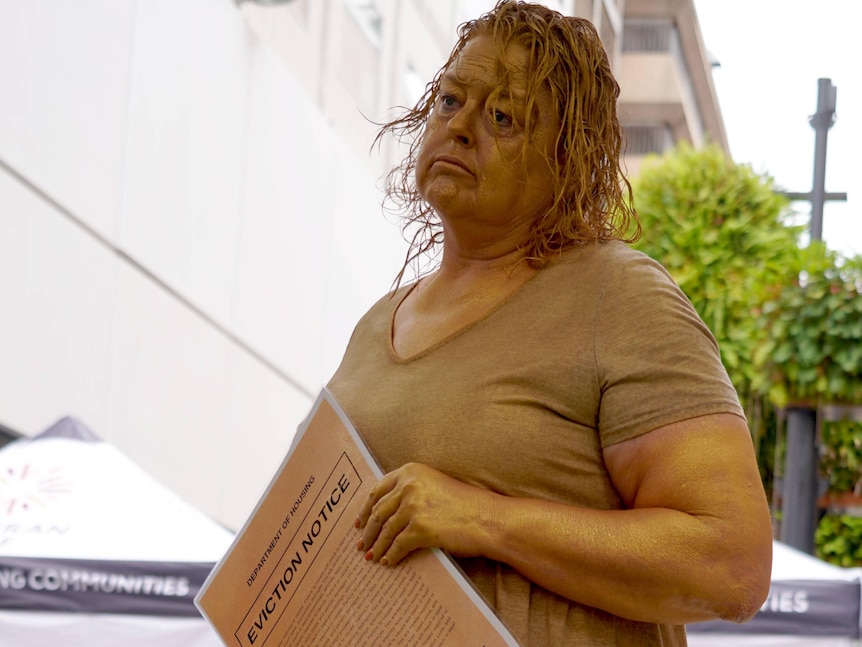 Many seeking support are 'new to homelessness'
Mr Baines — who came close to homelessness himself when he accumulated heavy debts around the time of the 2008 global financial crisis — said the color gold, which is usually a symbol of wealth, was chosen for its ironic value.
"Being a surrealist, I do everything out of context. So, I thought, 'I'll have all these statues here and instead of silver or bronze I'll have gold'," he reflected.
"Why would you have a gold homeless person? It's all [about] making people think back to front."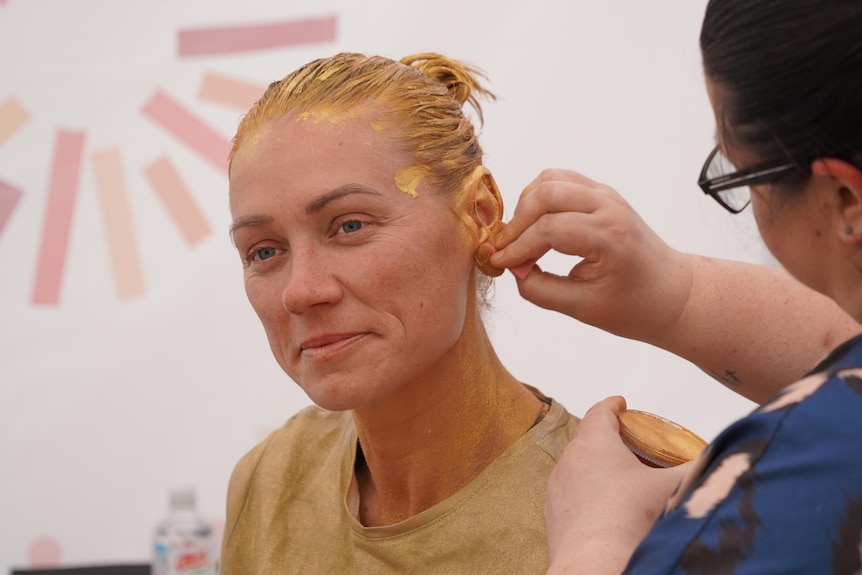 Lutheran Care executive manager Susan Richards said she wanted the event to be so strikingly eye-catching that it was impossible to ignore.
"We're hoping that it will really ignite a real community approach to solving this problem," she said.
"We're finding at the moment … that 85 per cent of the people who are coming into our service are actually new to homelessness, have never had to use a service like that before.
"It's the increase in inflation. It's the disparity between wages at the moment, and we all know that there is a limited housing market. So, it's a combination of everything."
Human Services Minister Nat Cook said it was important that the government continued to "ensure we are increasing the supply of affordable housing".
"There are thousands of people across South Australia who live without a secure home," she said.
"There are many thousands of people every month reaching out to our specialist homelessness service providers."
.